Welcome to Le Gosier in GUADELOUPE (French West Indies)

Guadeloupe is a French Overseas Region and an integral part of France and thus attached to the European Union. Located in the Lesser Antilles between Dominica and Antigua. This is a fascinating archipelago of 5 islands (Basse-Terre, Grande-Terre, Marie-Galante, Les Saintes, and La Desirade) with each of them offering travelers something different while retaining its rich Franco-Caribbean culture and identity.
Guadeloupe's two main islands look like the wings of a butterfly and are joined together by a mangrove swamp. Grande-Terre, the eastern of the two islands, has more than250 sun-warmed beaches in shades of white, black, gold, ochre and pink sand that offer visitors marvelous stretches of sand to laze on and plenty of activities, while mountainous Basse-Terre, the western of the two, is home to the wonderful Guadeloupe National Park, which is crowned by the spectacular La Soufrière volcano.
Le Gosier is the fourth most populated city in the archipelago of Guadeloupe and is located on the south side of the island of Grande Terre and is also part of the urban area of Pointe-à-Pitre, the largest conurbation in Guadeloupe. Discover the "Pearl of the French-Caribbean," the perfect island-hopping destination, combining the best of the French modern infrastructure with genuine Caribbean heritage. With its exceptional natural resources, important devices and infrastructure, recent research and academic sites, Guadeloupe has compelling advantages of an innovative territory for the organization of such an event.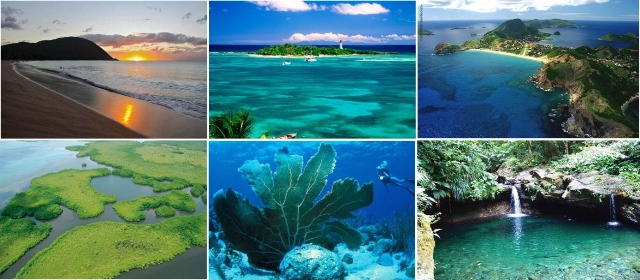 This region of French Overseas is very well served by air from France (5 to 7 daily flights) and North America (Canada & USA at 3 weekly flights). Months of May and June correspond to the low tourist season (opportunity to air fares and advantageous accommodation) and the end of the dry season. During and after the conference you will have the opportunity to discover the archipelago of Guadeloupe and live to the rhythm of French Caribbean. For more information, please consult Guadeloupe Islands website or Tourism Committee of Guadeloupe.