How to join Guadeloupe in the French Caribbean
Guadeloupe islands are very well served by air from France (5 to 7 daily flights), North America (Canada & USA at 3 to 5 weekly flights) and South America (seasonal flights). The round-trip to Guadeloupe is in average €400-500 from France and €300-400 from Boston, Miami or Montreal between April and June.
Several European and American compagnies offer attractive deals for round-trip to Guadeloupe between April and June. Remember to book early enough (between November and February) to benefit from these discount rates.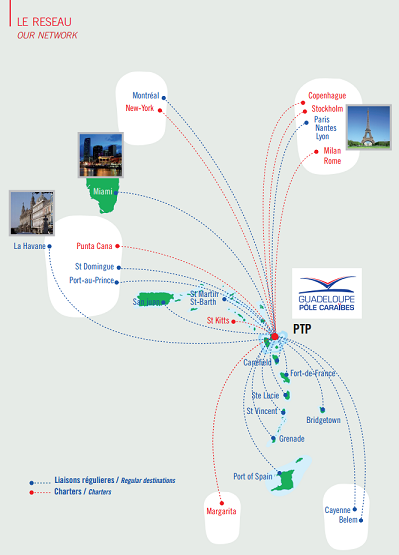 Cheap flights from many international airports are available here.
How to move in Guadeloupe
International airport Guadeloupe Pôle Caraïbes serves the Caribbean, North America, Central America, South America and Europe and serves as transport hub to Air Caraibes, Air France and Air Antilles to ensure the connections in the Caribbean and North American area.
There are many buses that serve almost all of Guadeloupe. For cons, the system of public transport in Guadeloupe is a bit unusual: the lines are private and exclusive. Stations are arranged throughout the island and are well served by several compagnies (karulis, CGTS, RMT, La Corniche d'Or). However, careful not to be surprised by the passage of the last bus. Outside the bus stations of Pointe-à-Pitre conurbation and from the town of Basse-Terre, it is strongly advisable to take a bus before 7.00pm.
You will find many very interesting car rental deals. The vast majority of lessors offers a bid on arrival at Pointe-à-Pitre airport (EuropCar, Rev'Car, Sixt, Caraïb Location, Guadaloc). However, ensure the proper operation of your vehicle before leaving the lessor.
It is possible to use taxis to get around. This is not the most cost effective way but the prices are not too high (Griere, Steph'Taxi). There are also private carriers that offer round trips to the places to visit. These transports are profitable when you are in a group. Otherwise, some tourist buses from the hotels also provide round trip to some important and touristic destinations.
For the visit of the islets of the archipelago, rental of motor boats or jet skis is possible everywhere in Guadeloupe (Yacht Paradise, Caraibes Nautisme, Atmosphere and Jet Force). However it is recommended to go with a guide who has a good knowledge of the passes and shoals.
The Guadeloupe Islands have 8 passenger terminals and four marinas that provide from many private companies and serve all the islands of the archipelago (Express des îles, CTM Deher, Val'Ferry). Regular shipping routes from Pointe-à-Pitre, Basse Terre, Trois Rivières, St. François and St. Anne to Les Saintes, Marie Galante, La Désirade and Petite-Terre islands.